High Protein Snickers Bar

high protein home-made snickers bar
4 serves, 22grams of protein per-serve
Seriously one of the best homemade bars I've ever done. You need to make these because I cant explain how good they are. But taste just amazing.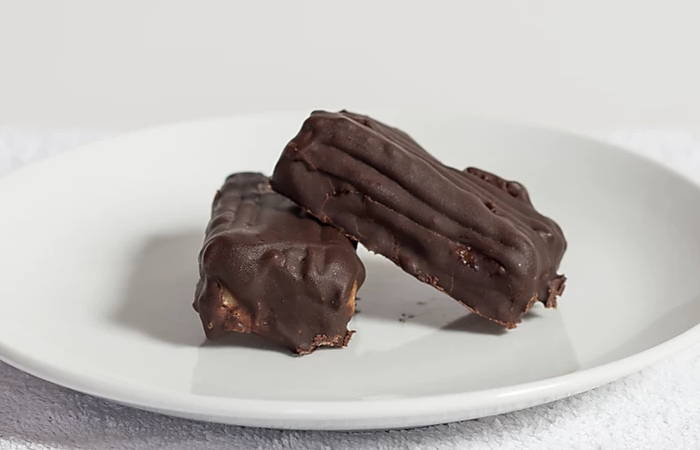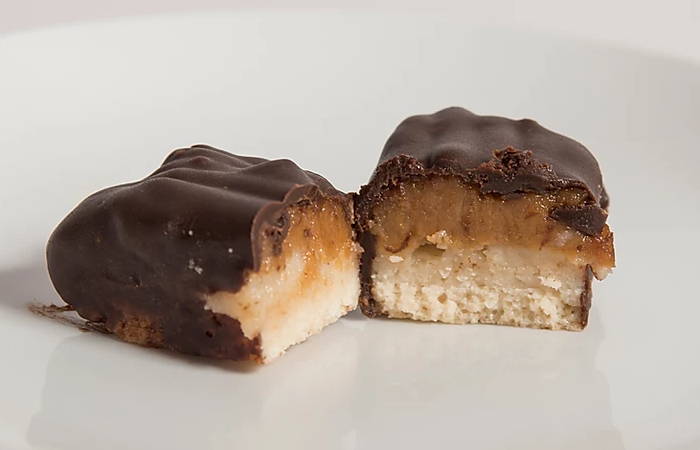 For the base:
3-4 scoops vanilla protein I used Prosupps
1 cup almond flour
¾ cup coconut flour
½ cup granulated sweetener I used Natvia natural Sweetener
1/4 cup sticky sweetener I used Queen maple syrup sugar free
1/2 cup milk of choice I used unsweetened almond milk
For the filling:
1/2 cup peanut butter can sub for any nut or seed butter I used Pics peanutbutter
1/2 cup sticky sweetener of choice I used Queen maple syrup
For the chocolate coating:
2 cups sugar free chocolate chips of choice
1.   Line an medium baking dish with baking paper and set aside. Warm oven to 160 Celsius.
2.   In a large mixing bowl, combine your dry ingredients and mix well. Add your sticky sweetener of choice and mix until a crumbly texture remains. Add your milk of choice- A thick dough should remain. If too crumbly, slowly add more milk until achieved. Bake for 10 min at 160 Celcius.
3. Let the base cool for 30min before putting the filling on.
4.   In a microwave-safe bowl or stovetop, combine all your caramel ingredients and heat until combined. For an ultra drippy caramel, continue to heat under almost boiling. For a thick and chewy caramel, remove from heat when ingredients are just melted.
5.   Once the caramel is done, pour over the cookie base and place in the freezer until firm.
6.   When the bars are thick and firm, cut into bars and place back in the freezer. Melt your chocolate and start dipping each bar in the chocolate. Continue doing so until all bars are combined. Place in the fridge or freezer until firm.
7. Enjoy
Share this recipe with your friends!
Triple Chocolate Protein Brownie W/ Peanut Butter Frosting
Keto, Gluten Free, and High in Protein.