Chocolate Protein mousse
Quick, Easy and Delicious Protein Chocolate Mousse with Ferrero Rocher's & Oreo's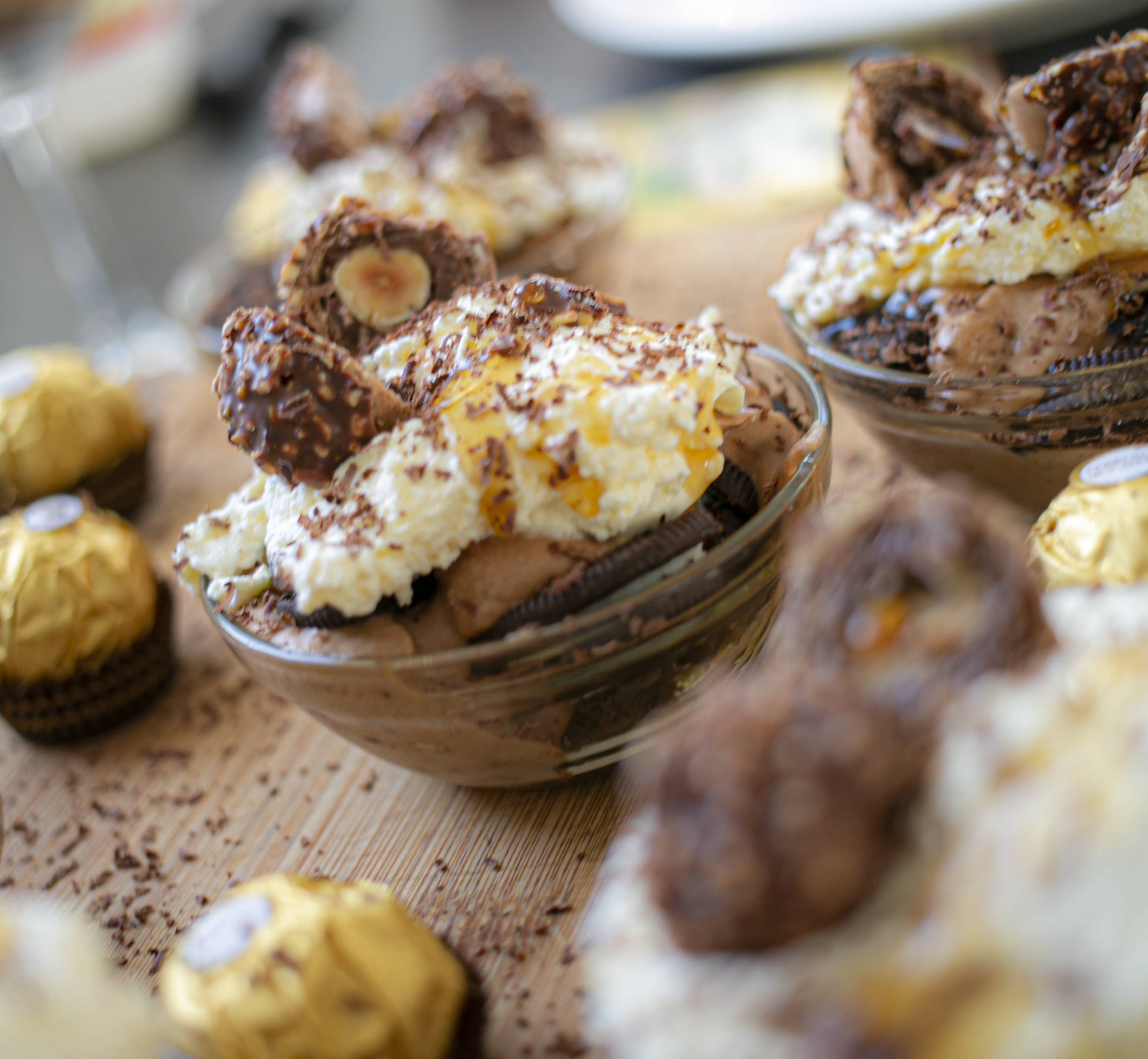 Ingredients
Chocolate Mousse
200 g cooking chocolate
4 eggs, separated
300 ml cream
200 ml Milk
2 tablespoons sugar
1 Scoop Musclepharm Protein (Chocolate)
Ferrero Rocher chocolates (Optional)
Oreos (Optional)
Protein Chocolate Mousse
Break the chocolate into the top of a double-boiler. Stir over hot water in the bottom of the double-boiler until the chocolate has melted. Allow to cool slightly.

Dissolve one scoop of MusclePharm Protein in a Muscle X Shaker with 200ml of milk, once mixture is smooth, gradually add the Protein Liquid into the melted chocolate parts at a time while string.

Stir in the egg yolks and beat until thick and smooth.

Whip the cream and quickly fold the chocolate mixture into it.

In a separate bowl, beat the egg whites until stiff but not dry. Gradually add the sugar, beating until thick and glossy.

Fold half the egg white mixture into the chocolate mixture, then add the rest, folding gently.

Pour into four-to-six individual coffee cups or one large dish. Chill until firm.
ADDITIONAL Decoration (Optional)
Before adding the chocolate mousse into serving dishes, break chunks of Oreos and place them randomly throughout the dishes. Don't be scared to be generous with the Oreos.
Add a tablespoon of whipped cream on top of each dish, alongside Ferrero Rocher chocolates (Halved)
Enjoy! :)
Recipe Credit: Creative Director Trent Skeet
share this recipe with your friends!